On October 22th, 2014 was held the conference Construyendo sin obras (Building Without Works), at Escuela de Ingeniería de Caminos Canales y Puertos e Ingeniería de Minas, Technical University Cartagena.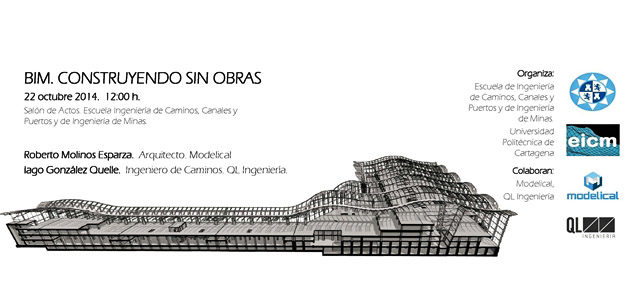 The conference focused on the options offered by BIM (Building Information Modeling), a method that facilitates communication among architects, engineers and builders allowing efficiently information exchange. It creates digital representations of all stages of the construction process and simulate performance in real life. It's a software that improves workflow, increases productivity and improves the quality of the projects.
The principals of QL Ingeniería and Modelical, Iago González and Roberto Molinos respectively, will participate in this conference giving each one a lecture explaining from their experience, the potential that BIM has as a tool for design and management of information and its use in the field of Structural Engineering.
They are two great professional and entrepreneurs who will speak about advantages and benefits of this software, not settled still in our country but with an increasingly international use in the world of construction.